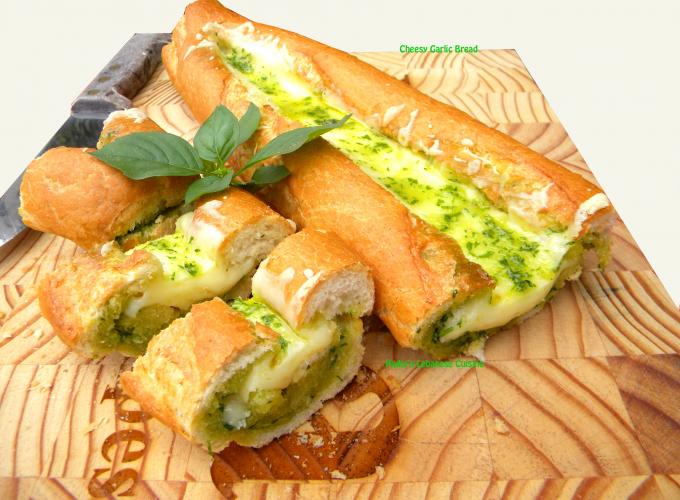 Cheesy Garlic Bread




This makes a perfect warm appetizer. No one can resist the seductive smell of this cheesy garlic bread. And it tastes just as good

.
What would be better than a warm ooey goeey cheesy garlic bread right from the oven!! The end result is crusty bread with a soft cheesy filling flecked with garlic and parsley. Serve it for breakfast, brunch, or with your soups or make it for your next gathering! It even goes great with salads
Just imagine the flavors, and I tell you that this is by far my favorite garlic bread!


Ingredients:

1 loaf French baguette
10 garlic cloves crushed
3 tablespoons parsley, chopped
½ teaspoon salt
½ cup olive oil
1 tablespoon butter, softened
1 cup Gouda or Swiss cheese, grated

Directions:

Preheat the oven to 180°C/350°F. Place a rack in the center of the oven.
Cut the loaf of bread horizontally, almost dividing it in half while leaving one end intact.
Place the garlic, olive oil, butter, parsley and salt in a blender and grind to smooth.
Spoon the blended mixture onto the bottom half of the bread, and sprinkle the cheese.
Bake for 5-6 minutes or until the cheese melts.
Cut into slices and serve warm.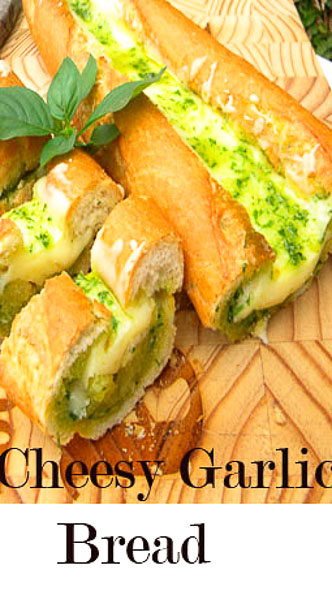 If you enjoyed this recipe, be sure to subscibe to our newsletter so you never miss a single recipe.
All photos and content are copyright protected. Please don't use photos without prior written permission.